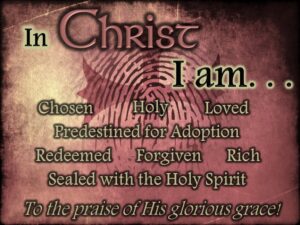 When God graciously saves a sinner, He graciously establishes that redeemed sinner in Christ. And in Christ, the converted are given spiritual blessings that transform a person's identity, beliefs, and therefore, behavior.
You may have heard it said, "Stay true to who you are." But the Bible converts that statement from being self-centered to Christ-centered: "Stay true to who you are in Jesus Christ." To help you stay true to who you are in Christ as described in Ephesians 1:3-14, we have created this graphic that you can download as a reminder of what God has graciously done to make you His son or daughter.
If you would like to know more about having a personal, ongoing relationship with Christ, please contact us using our Connect With Us tab.
One of our goals and prayers as a church is that the members of the Celebration Baptist Church family would continually grow in their relationship with Christ. We are pleased to partner with RightNow Media (RNM), an online, user-friendly library for individuals in every age and stage of life.
With RightNow Media, you will find an array of wonderful, Bible-based content from Christian leaders throughout the world. You'll find discipleship training videos ranging from topics such as parenting and marriage to finance and mission, and a great library for kids. We pray that you will take advantage of this incredible online resource that is free of charge for CBC members.
Create a free online account by clicking the link here.