During this Holy Week, we are reminded of the great lengths and depths God went to make our salvation from sin, self, Satan, and death possible. For those who give their lives to God by faith and repentance of sin, "there is no condemnation" (Romans 8:1). They are in Christ, joined together in relationship to Him and thereby fully acquitted of all sin. Furthermore, those who are in Christ have been saved into eternal life. As our Savior prayed in the Garden of Gethsemane, He said to our Heavenly Father, "And this is eternal life, that they know you the only true God, and Jesus Christ whom you have sent" (John 17:3). Salvation is more than an escape from the eternal torment of hell (which we all naturally deserve); salvation is eternal fellowship with the living God (which is an astounding gift of amazing grace). Jesus goes on to pray for all those who believe in Him through His Word, "that they may all be one, just as you, Father, are in me, and I in you, that they also may be in us, … so that the world may believe that you have sent me and loved them even as you loved me" (John 17:20-23). In remembrance of Christ's finished work on the cross, let us "be kind to one another, tenderhearted, forgiving one another as God in Christ forgave [us]. Therefore, be imitators of God (in His character and conduct), as beloved children. And walk in love, as Christ loved us and gave himself for us, a fragrant offering and sacrifice to God" (Ephesians 4:32-5:1).
---
Superman

had a Fortress of Solitude. It was an Arctic sanctuary that reminded him of his true identity and renewed his strength. After one of his epic battles that nearly killed him, he absorbed the energies of the Fortress for healing.
And then there was Rocky Balboa. In Rocky IV, he decided to train for his boxing showdown with Russian fighter, Ivan Drago, in the Siberian wilderness. He chose that remote place so he could focus on preparing for the fight. And it paid off! He defeated the giant!
For us Christians, God is supposed to be our fortress of solitude – He must be that place for us! In His presence, we are reminded of who we are in Christ. In His presence, our soul strength in Christ is renewed. In His presence, we can focus on the Lord Jesus Christ and armor up for spiritual battles. In His presence, we get to know God more and more. When we intentionally wait for God alone in the silence, God is pleased to strengthen our souls with His power and steadfast love (Psalm 62). Is God your Fortress of Solitude?
Jesus Christ practiced the twin spiritual disciplines of silence and solitude. On numerous occasions, God the Son withdrew from the hustle and bustle of life and ministry for a quiet time of prayer with God the Father (Mark 1:35; Luke 4:1-13; 5:16; 6:12; 9:28; 11:1; 21:37; 22:39-42). He was strengthened for ministry and obedience to God's will – even death on the cross!
Making His holy habits and sacred rhythms our own is vitally important. This is the way to soul strength for the daily journey.
---
Manic Mondays can really get us down. We may start the new week with great expectations, believing and hoping that this is going to be a good week. But then life does its thing. The Christian band MercyMe captures it well with their lyrics from "Hurry Up and Wait"…
90 miles a minute

Life's a circus and you're in it
Too afraid to admit it
You're spinning out of control
A new school year is here. Deadlines are looming. Problems need solutions. AVALANCHE AHEAD! As hectic as your mind and schedule can be, please slow down, turn off the electronics, and sit in the presence of God. A very busy, pressured King David revealed the secret to his ability to keep going in Psalm 27…
One thing I ask from the Lord,
this only do I seek:
that I may dwell in the house of the Lord
all the days of my life,
to gaze on the beauty of the Lord
and to seek him in his temple (referring to God's presence).
Let King David's lyrics challenge you to hurry up and wait on the Lord. To wait on the Lord is not just a matter of timing; it's a matter of meditating on His promises and trusting that He will fulfill His promises at just the right time. It's relinquishing controlling worry and believing that God is all your soul really needs for daily strength and steadfast love (Psalm 62).
Almighty God knows our human strength is brittle and fleeting. That's why He says through the prophet Isaiah, "They who wait for the Lord shall renew their strength; they shall mount up with wings like eagles; they shall run and not be weary; they shall walk and not faint" (Isaiah 40:30-31). Give your life and schedule to the everlasting God. He cares for you. He loves you. He wants you to enjoy Him. He gives sustaining strength to those who trust in Him. We can do no better than having God in our hearts and lives!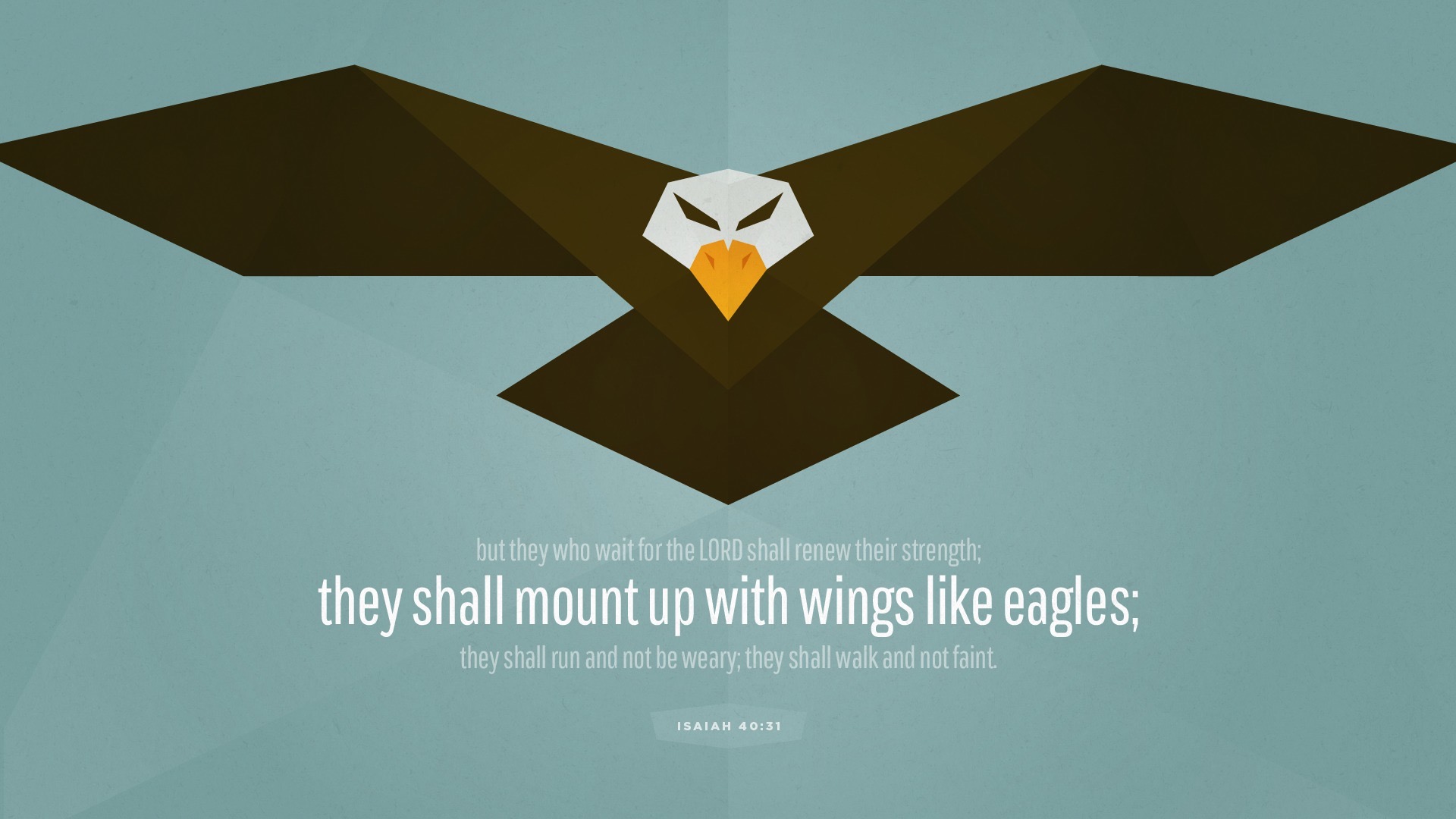 ---